Helping to preserve the spiritual purpose and enduring beauty of Catholic liturgical art items
News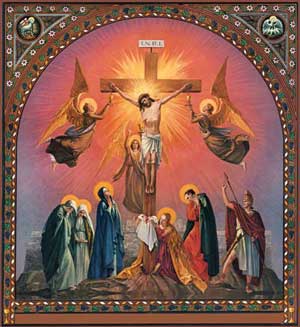 Headquartered in Dayton Ohio, the Society for the Preservation of Roman Catholic Heritage (SPORCH) is a spiritually-motivated group of clergy, religious, laity, artisans, and concerned individuals working to preserve the spiritual purpose and enduring beauty of Catholic liturgical printed art items: altar appointments, ordinals, missals, hymnals, and other artifices from the Roman Catholic liturgical and cultural heritage of our nation.
Our Misson is to promote the Roman Catholic Heritage and Traditions through its art and artifacts and to build a bridge between the Catholic traditions of the past and promote continuing them into the church of tomorrow. See our Programs and Projects.
To help support our efforts, we make prints, such as the one shown here, as well as some of our found/restored items, available at affordable prices.
Order refurbished/remastered ecclesiastic art and Travel Altar Cards from SPORCH by purchasing online or by contacting us
Your Comments and Suggestions, and especially your Donations and Prayers, are always welcome. Just click the envelope to email us, or call as at 937.224.1900. We'd love to hear from you!
Can You Help Us?
We need your help to continue our mission. Volunteer your skills. Serve as a Board member. Donate a tax-deductible monetary contribution. Got questions? Click the envelope to contact us by email!